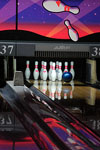 posted by Brenda Shott on Mon 28 Nov 2011 21:20
The bowling social last year was such a big hit that we have decided to run it again, this time just before Christmas. We will be heading to Hollywood Bowl, Middlebrook for 7pm on Saturday 10th December 2011. Afterwards we will be meeting at a pub called the Barnstormers across the road on Lostock Lane for supper (Hotpot £2), general fun and games.
As always all members and their families are welcome to attend. If you are interested in coming along please let Brenda know numbers ASAP by clicking here or ringing her on 01942 810971 or 07786135632 so that she can book lanes and order suppers.